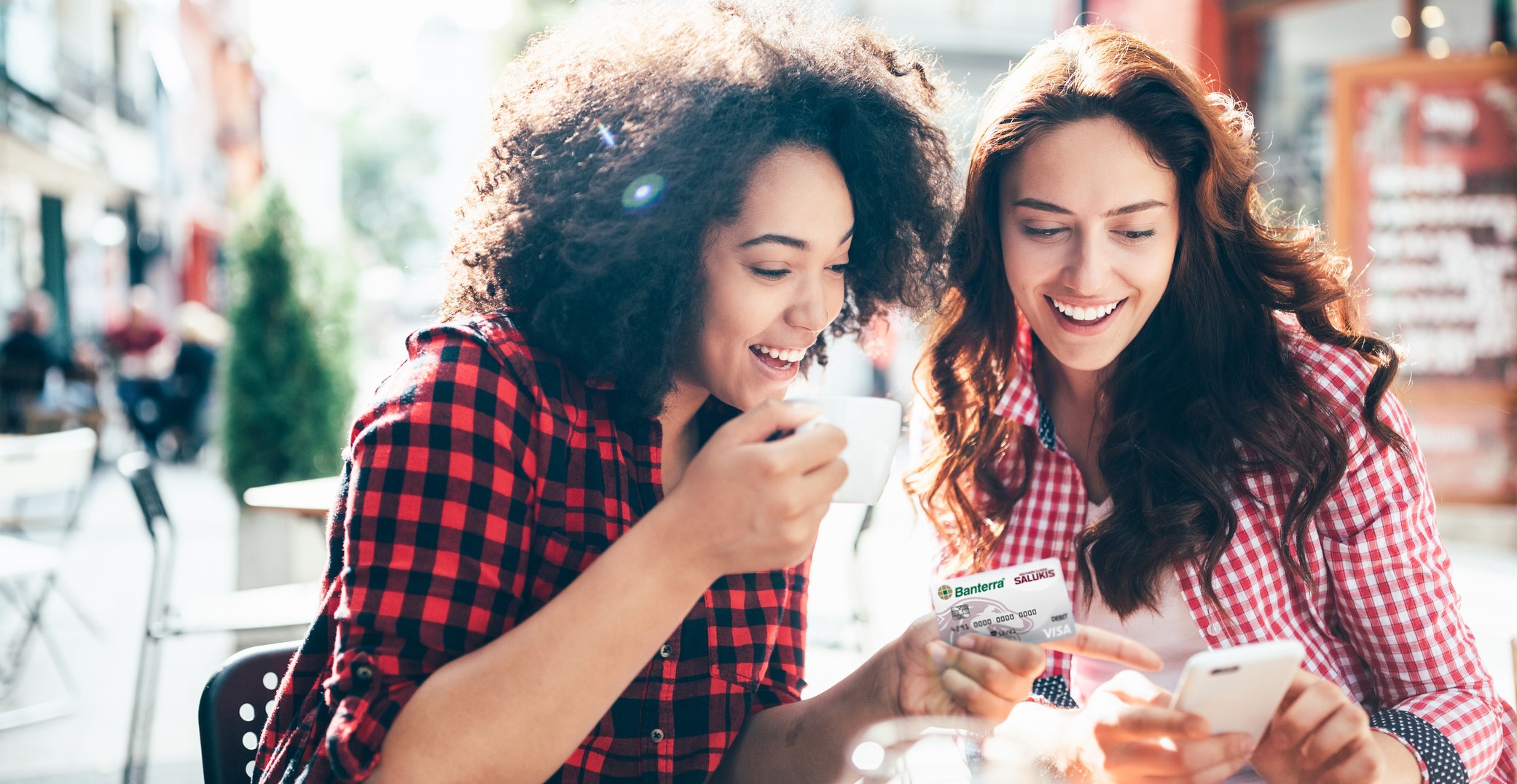 You may not know that Banterra Bank offers a Banterra-SIU Saluki Visa® Debit Card or -- that it contributes to SIU scholarships1 with every purchase. Plus, there are no ATM fees2 at 55,000+ ATMS*, no overdraft fees3 and it's only $25 to open an account.
Getting the card is easy. Choose from two Saluki checking account choices geared towards Saluki fans and students, Banterra Saluki Student Checking4 and Banterra Saluki Interest Checking. As an added bonus, now through November 30th, 2021, students can get $1005 with a new Banterra-SIU Saluki Student Checking account. Contact or stop by your local branch for details.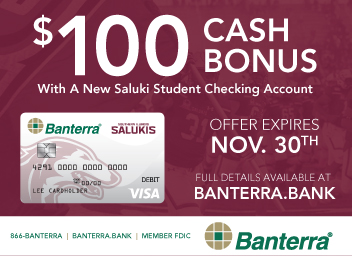 Load your Banterra-SIU Saluki Visa® Debit Card on your mobile device and unleash great benefits like convenient digital banking, digital wallet compatibility, unique Saluki fan experiences6 and the choice of Banterra-Saluki checks7. Start showing your Saluki Pride today.
Open An Account Online
It is super easy to get your Banterra SIU-Saluki Visa® Debit Card. Simply open your account online at Banterra.bank or stop by one of our branches, with Carbondale branch only two miles away from campus. To find our branch locations, go to Banterra.bank/locations.
About Banterra and Southern Illinois University
Banterra became the first corporate naming-rights partner for a SIU athletic facility in 2019, entering a multi-million agreement to rebrand SIU Arena to Banterra Center. As part of that agreement, Banterra offers a Banterra SIU-Saluki Visa® Debit Card that contributes to a Banterra-SIU Scholarship Fund which provides ten scholarships annually. Banterra is a proud sponsor of Saluki Athletics and Banterra Center.
Learn more about SIU Saluki Checking products here.
1Banterra-SIU Scholarship Fund is facilitated by SIU. To apply or learn more, go to www.scholarships.siu.edu.
2ATM Fees: ATM fees charged by owners/operators of non-Banterra ATMs will be reimbursed on up to eight (8) non-Banterra ATM transactions, or up to 25% per statement cycle.
3 Overdraft Fees: Overdraft Fees will be avoided by Banterra automatically declining any withdrawal or purchase that would be a result in insufficient funds to your account. Customers who prefer not to have these transactions declined can link their account to a Banterra Overdraft Protection funding account; certain restrictions apply.
4Student Checking: This account is only available to customers 25 years or younger. At age 26, this account will automatically be converted to Saluki Interest Checking and must meet the specified account terms in order to avoid monthly fee.
5Cash Bonus: $100 Cash Bonus With Saluki Student Checking: Receive $100 bonus when you complete eight (8) Banterra-Saluki Visa Debit Card transactions within the first statement cycle of account opening. Bonus will be credited to your account in the statement cycle following this completion and will be reported as income on Form 1099-INT. Limit one bonus per student. Bonus offer is not available for existing Banterra checking customers. Accounts must be opened by November 30, 2021 to receive bonus offer. Cannot be combined with other checking offers. Checking offer is not available to existing Banterra checking customers or previous customers whose accounts have been closed within the last 90 days or closed with a negative balance. Must be 18 years old or older and agree to maintain account in good standing for a minimum of six months. Subject to bank approval. Employees are not eligible for this offer. Account Closing: If your Saluki Student Checking account is closed within six months after opening, the bonus amount you received for that account will be deducted at closing.
6Saluki Fan Offerings: For complete details on unique Saluki fan experiences, ticket offers and discounts at SIU Athletic Events, go to www.siusalukis.com. 7Saluki checks and other check designs are available, prices vary per style.