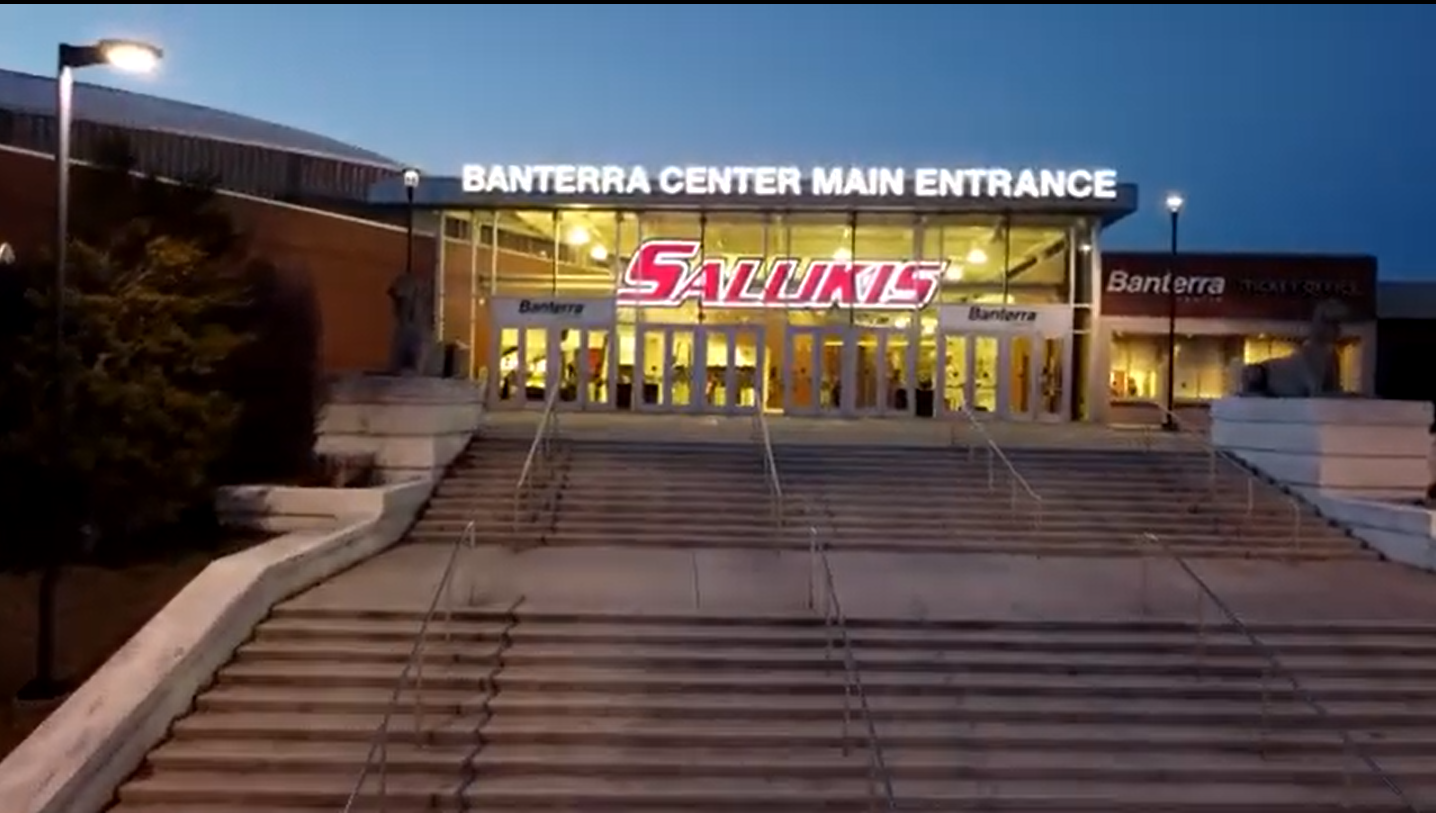 A Partnership that Benefits Southern Illinois
By accessing the Youtube.com link above, you are leaving the Banterra Bank website and entering a website hosted by another party. Please be advised that you will no longer be subject to, or under the protection of, the privacy and security policies of Banterra Bank website. We encourage you to read our Terms of Use section regarding the use of links from Banterra Bank website.
Banterra Bank is proud to partner with the SIU Salukis and to provide the largest corporate naming-rights agreement in the university's more-than-150-year history. Celebrate with us as we explore the multiple ways that this partnership benefits the region, such as the Banterra-SIU Saluki Visa Debit Card and the Banterra-SIU Scholarship Fund. Join us in supporting the SIU Salukis and Banterra Bank as we continue to make a positive impact in Southern Illinois!
Transcript of the SIU Salukis Banterra Center video
Narrator
On a cool, Southern Illinois night, you can capture the excitement in the air. Since 1964, people throughout the region have made their way to these steps and to this historic building. Now known as "Banterra Center," the home of Men's and Women's Basketball. Banterra Center is one of the best facilities in college basketball and the audience is passionate about their SIU Salukis. For Banterra, the region's largest locally owned bank, with locations in multiple states, we're passionate about the Salukis, too.
Jeff May, President & CEO of Banterra Bank
Partnering with SIU and the branding opportunity for the region's largest employer made perfect sense for us. The partnership includes a Banterra SIU Salukis Visa® debit card which benefits SIU scholarships which is really important to us. I would encourage all of Southern Illinois to support SIU and cheer on the Salukis.
Narrator
To follow the SIU Salukis, go to www.siusalukis.com. To learn more about Banterra Bank, go to www.banterra.bank. Banterra Bank, a proud supporter of the SIU Salukis and Southern Illinois University. Member FDIC.
Checking Community Credit/Debit General
February 24, 2023 by Banterra Bank
By clicking the links above, you are now leaving Banterra Bank's website and are going to a website that is not operated by the bank. Banterra Bank is not responsible for the content; availability of linked sites; does not endorse or guarantee the products, information, or recommendations; and is not liable for any failure of products or services provided by the linked website. Please be advised that Banterra Bank does not represent either the third party or you, the customer, if you enter into a transaction. Further, the privacy policy of this site owner may be different than that of the bank and this site may provide less security than the bank's website. We encourage you to read the privacy policies of websites reached through the use of links from the Banterra Bank website.