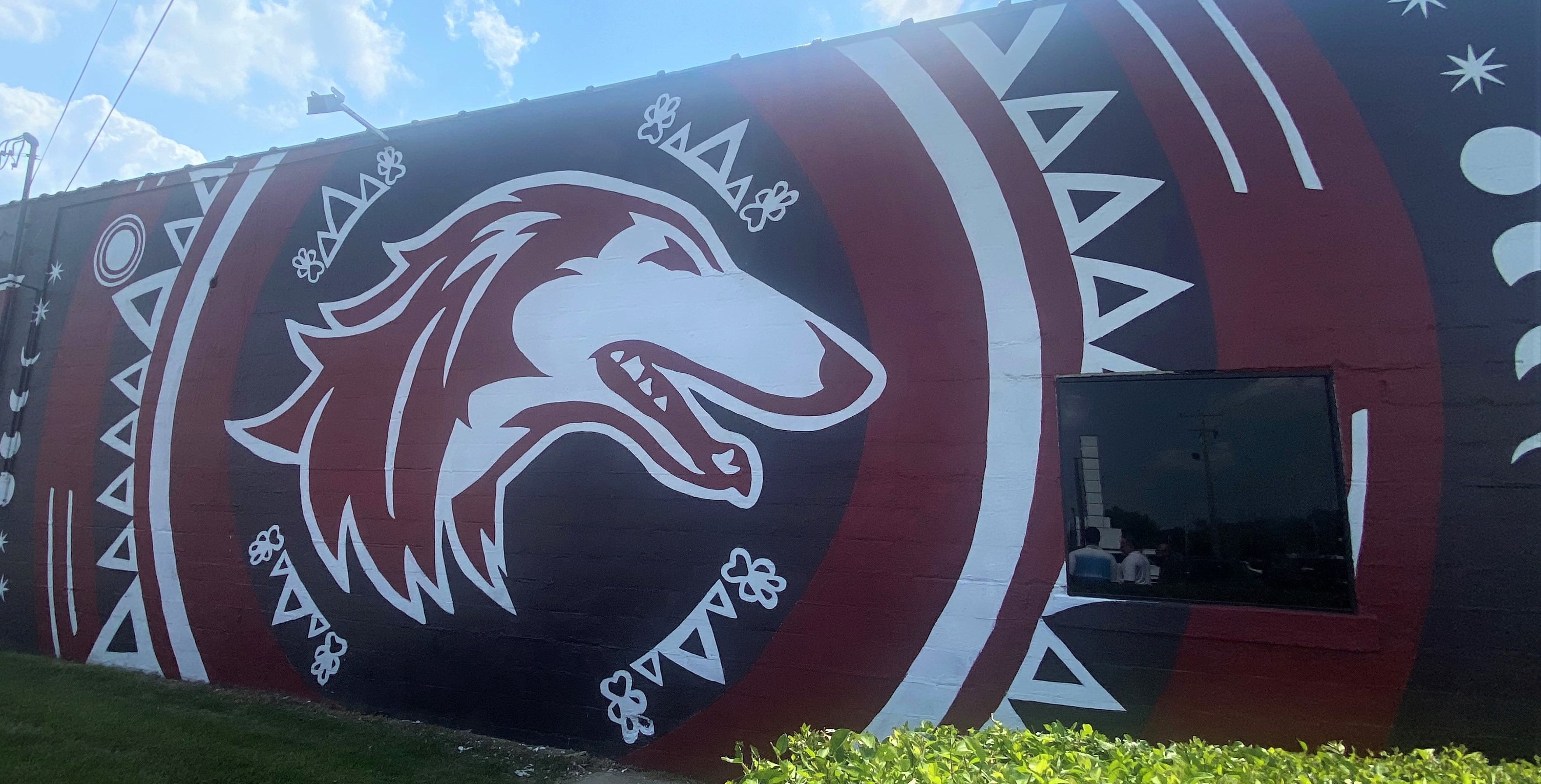 Southern Illinois University (SIU) Carbondale is known for many things, one of which is strong "Saluki Pride" shared amongst students, alumni, fans, and others. Since the university was established in 1869, it has experienced growth and challenges, all while maintaining a strong, supportive community throughout Southern Illinois. Are you a proud Saluki fan? There are various ways to show your pride; continue reading to learn how.
Paint The Town
Whether you are driving west on Route 13 or headed north towards "The Strip" on Illinois Avenue, it is likely you will see Saluki murals painted proudly. Not only does this decorate the town, but makes for a great photo spot for new students, graduation pictures, or the avid athletic fan to share on social media.
If it was not for the Saluki Pride Committee and others, these walls would likely still be blank and there would not be the trail of paw prints painted on the roads. Michael Lewallen, one of Banterra's Commercial Lenders and a Saluki Pride Committee Member states, "As a committee, our goal is to help the city of Carbondale and local businesses to show their support of the university, and for visitors to easily see our Saluki Pride. It is an honor to be a part of a group that shares the same love of maroon and white."
Thank you to the committee and its members for your hard work and dedication to help paint the town and spread Saluki Pride.
Go Dawgs
One of the most traditional ways Saluki Pride is unleashed is during athletic events. Saluki athletic teams have built successful programs over the years, drawing a crowd from throughout the region. When attending a game at Saluki Stadium or the Banterra Center, you will feel the energy from the fans and the Dawg Pound – a student-only section ready to cheer on the athletes.
For years, Banterra has proudly supported SIU and Saluki Athletics and values what the university has to offer, not just for education opportunities, but for the number of jobs it provides for Southern Illinois. Banterra's Saluki Pride gave reason, in 2019, to establish a ten-year naming rights agreement for the university's basketball arena, now the Banterra Center. In addition to the arena's name, Banterra created a scholarship fund, awarded to ten students annually, that is contributed to by Banterra customers who utilize a Saluki-branded Visa® Debit Card.
To learn more about Banterra's partnership with SIU, click here.
Saluki Pride You Can Bank On
To further elevate your Saluki Pride, Banterra offers two accounts for students - Saluki Student Checking and Saluki Interest Checking. Both accounts come with the Banterra-SIU Saluki Visa® Debit Card, so you can swipe with pride. Even though these accounts are geared towards students, the Banterra-SIU Saluki Visa Debit Card can be selected for other personal accounts. With each swipe of the card, SIU alumni and fans can easily support the university without thought.
You may be wondering, "What is in it for me?" With your Banterra-SIU Saluki Visa Debit Card, you know that with every purchase, you are supporting scholarships for SIU students plus you can get exclusive deals at the Banterra Center and SIU athletic events on tickets, concessions, and at the team store.
Are you ready to show your Saluki Pride? Open an account today online or visit your local Banterra branch to learn more.
June 20, 2023 by Banterra Bank
By clicking the links above, you are now leaving Banterra Bank's website and are going to a website that is not operated by the bank. Banterra Bank is not responsible for the content; availability of linked sites; does not endorse or guarantee the products, information, or recommendations; and is not liable for any failure of products or services provided by the linked website. Please be advised that Banterra Bank does not represent either the third party or you, the customer, if you enter into a transaction. Further, the privacy policy of this site owner may be different than that of the bank and this site may provide less security than the bank's website. We encourage you to read the privacy policies of websites reached through the use of links from the Banterra Bank website.